Botanically, it belongs to the family of Asteraceae; the genus of Taraxacum and known scientifically as Taraxacum officinale. There are many common names for this herb like priest's crown, Irish daisy, monk's head, blow ball and lion's tooth (Power Your Diet.com).
Dandelion herb is one of the most sought-after herbs to enliven our daily meals. Almost all the parts of the plant, leaves, flower tops, and root are being used either for culinary purpose or as a curative agent for certain diseases.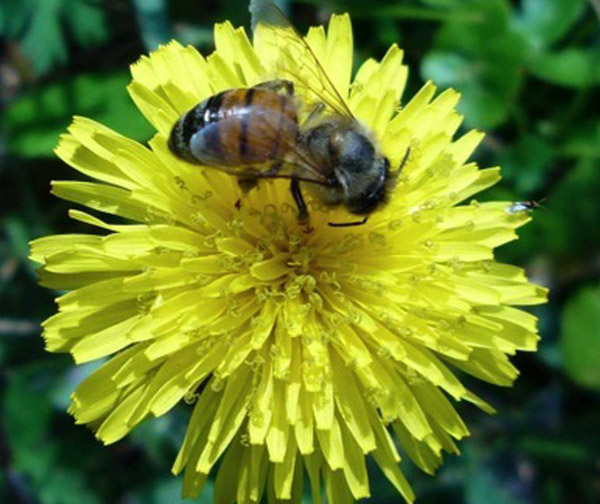 ● Fresh dandelion greens, flower tops, and roots contain valuable constituents that are known to have anti-oxidant, disease preventing, and health promoting properties.
● Fresh leaves are very low in calories; providing just 45 calories per 100 g. It is also good source of dietary fiber. In addition, it is a good laxative. The active principles in the herb help reduce weight and control cholesterol levels in the blood.
● Dandelion root as well as other plant parts contains bitter crystalline compounds Taraxacin, and an acrid resin, Taraxacerin. Further, the root also contains inulin and levulin. Together, these compounds are responsible for various therapeutic properties of the herb.
● Fresh dandelion herb provides 10161 IU of vitamin-A per 100 g, one of the highest source of vitamin-A among culinary herbs. Vitamin A is an important fat-soluble vitamin and anti-oxidant, required for maintaining healthy mucus membranes and skin and vision.
● Its leaves are packed with numerous health benefiting flavonoids such as carotene-β, carotene-α, lutein, crypto-xanthin and zea-xanthn. Consumption of natural foods rich in vitamin-A and flavonoids (carotenes) helps body protect from lung and oral cavity cancers. Zeaxanthin has photo-filtering functions and protects retina from UV rays.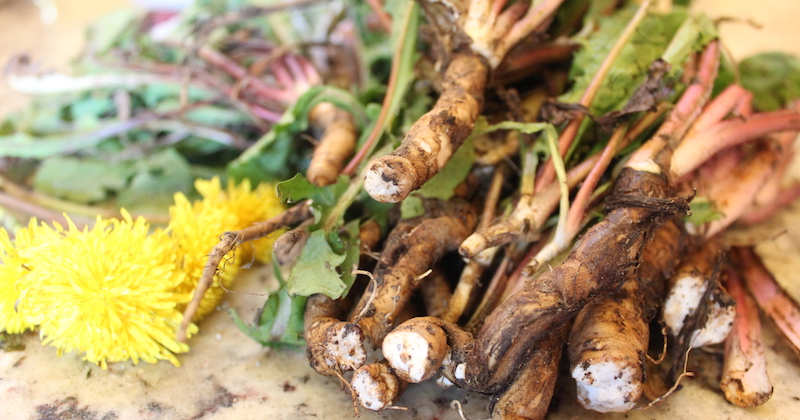 ● The herb is good source of minerals like potassium, calcium, manganese, iron, and magnesium. Potassium is an important component of cell and body fluids, which helps regulate heart rate and blood pressure. Iron is essential for red blood cell production. Manganese is used by the body as a co-factor for the antioxidant enzyme, superoxide dismutase.
● It is also rich in many vital vitamins including folic acid, riboflavin, pyridoxine, niacin, vitamin-E and vitamin-C. Vitamin-C is a powerful natural antioxidant. Dandelion greens provide 58% of daily-recommended levels of vitamin-C.
● Dandelion is probably the richest herbal sources of vitamin K; provides about 650% of DRI. Vitamin-K has potential role in bone mass building by promoting osteotrophic activity in the bones. It also has established role in the treatment of Alzheimer's disease patients by limiting neuronal damage in the brain.
● It has laxative and diuretic functions.
● The plant parts have been used as herbal remedy for liver and gall bladder complaints.
● The herb is also a good tonic, appetite stimulant and is a good remedy for dyspeptic complaints.
● The inside surface of the flower stems used as a smoothening agent for burns and stings (for example in stinging nettle allergy)
How George Cairns cured his Prostate cancer?
A little over three years ago George Cairns suffered from Prostate Cancer. His condition was very bad. He lost every hope to survive. Then a voice came to him and said, "You have to do something for your cancer. Take the root of the dandelion. Don't expect a miracle, but slowly you will improve." As soon as he got up next morning, he dug some roots and started to prepare it. Three weeks later the pain in his back and side was gone and bowels had improved. Five and half month later doctor could find no cancer in his body at all.
He then wanted to find someone else to try it. Finally, he was told a friend about it, who was dying of lung cancer. He had cancer in both lungs and was bed ridden. They were tapping his lungs. He had been given 4 to 6 weeks to live. After he had been on dandelion root powder about six weeks, he was up and around doing his chores and driving his car. He went to his doctor's office, and the doctors could not believe it. They took him to the hospital and gave him a CAT scan. They found no cancer lesions in his lungs and said it was a miracle!
He then put an advertisement in the paper, and four people told that they would try it. Slowly one person told another and it spread. There was a fair amount of people taking it for different kinds of cancer and several for other things (Cairns).
Procedure
To make the powder from the dandelion root you must follow these directions. Any changes and it won't work. Dig a handful of dandelion roots any time of the year, it doesn't matter. Cut the leaves off just below the crown. DO NOT WASH. Then they must be dried around 1000 F. Do it in an incubator with no water. You can also dry them under a heat light bulb if you raise or lower it so it's 1000F. You can also use the sun or put them in the attic if it's not too hot. It takes about 5 or 6 days in the incubator. When you break a root and it snaps, then it is ready to powder.
Dose
Now take a little over one half teaspoon once a day at any time and mix it with water, orange juice, etc. Do not use in soft drinks, liquor, or anything hot. When mixed, use it all. Don't let it stand around. Keep the powder in a dry place. After taking it three or four days, you will feel good, but nothing else. That is because your blood is building up. When you blood is happy, you're happy. In most cases, this will build your immune system in three days to three weeks to the point it takes back control of cancer cells and thus the cancer stops spreading. In most cases it is going to help. You just feel a little better each week. After three weeks most of the pain will be gone in your back and you know it's working if you had pain there like I did. If you have bone cancer in the spine, it will take three months to work. This is not an overnight cure. The sooner you start, the quicker you heal your cancer.