Linomel
Linomel is an invention by Dr. Budwig. Freshly crushed Flaxseed is mixed with honey and milk powder so that the crushed Flaxseed is more stable. There is no doubt that freshly crushed Flaxseed is more valuable, but also has the disadvantage that you do it yourself and clean the grinder afterward. That is why using Linomel is a great idea. Do not buy crushed Flaxseed in the shop as the chance that these contain Trans fatty acids is 100%.
Is there an alternative to Linomel?
Freshly crushed Flaxseed is an alternative. This must be eaten immediately after the meal, otherwise, it will oxidize.
Make your own Linomel. Mix 6 tablespoons of freshly crushed Flaxseed with a tablespoon of honey. Small tip: Grind the Flaxseed, e.g. in a coffee grinder, and set the grinder to coarse. So it mixes better with the honey.
Mayo dressing
As salad also use: dandelion, cress, celery, tomato, cucumber, lettuce, radish, cabbage, broccoli, green horseradish, and pepper.
Delicious mayo salad dressing can be prepared by mixing together
1- Two Tbsp (30 ml) Flaxseed Oil,
2- Two Tbsp (30 ml) milk, and
3- Two Tbsp (30 ml) cottage cheese.
4- Then add Lemon juice (or Apple Cider Vinegar) as required
and add 1 teaspoon (2.5 g) Mustard powder plus some herbs of your choice. Other alternative dressing can be made by mixing Flax Oil, lemon juice, Mustard, and some herbs.
Oleolox
Oleolux is a savory butter or topping for food created by Dr. Johanna Budwig. It is a rich golden-yellow blend of cold-pressed linseed (flax) oil and raw coconut oil delicately enhanced with onion and garlic. Cholesterol-free, rich in Omega-3 and other beneficial fats, it makes a healthy alternative to butter, cream, or refined oil in everyday meals for anyone looking for tasty food and a healthier lifestyle. The garlic and onion have sulfurated proteins, that try to naturally prevent oxidation of flax oil in the transit.
Ingredients
1- Cold-Pressed Linseed (Flax) Oil 125g
2- Cold-Pressed Coconut Oil 250g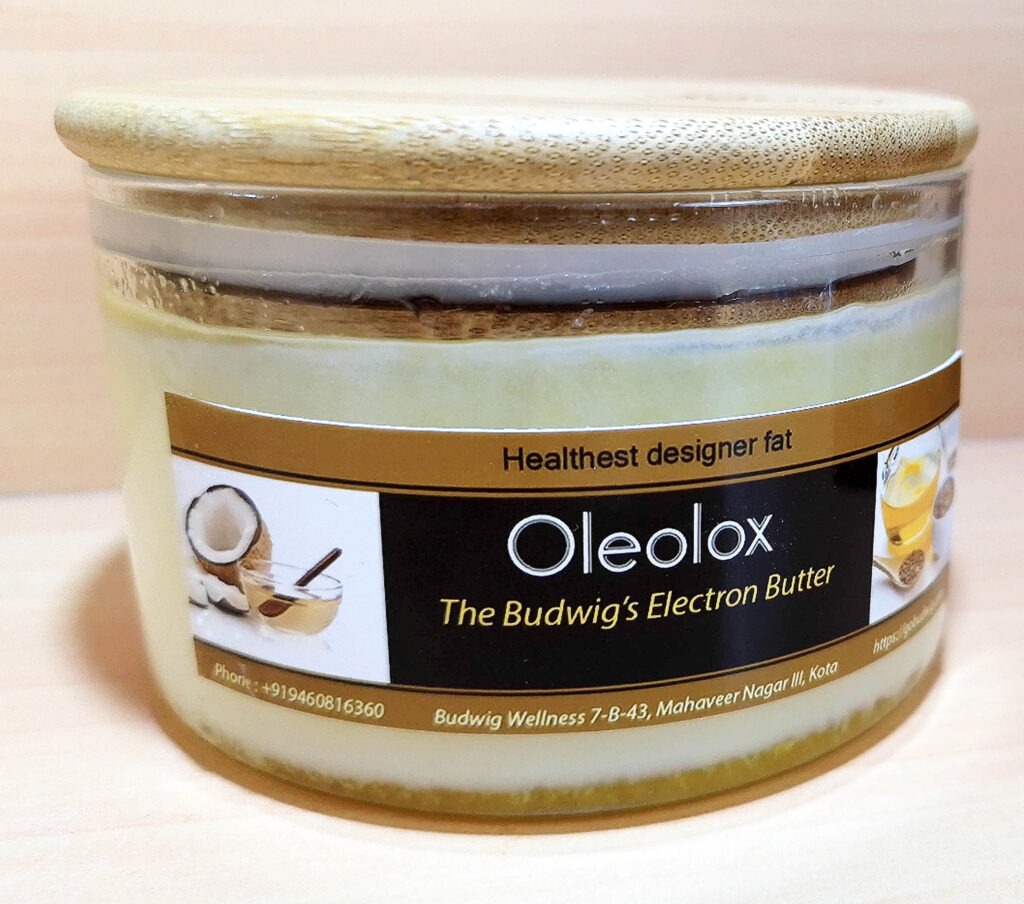 Method:
Weigh the Linseed Oil into a suitable container, preferably glass that has a lid, or can be covered, it needs to be large enough to take the coconut oil as well. Place it in the freezer for 20 minutes.
Melt coconut oil in a large pan from which it is going to be easy to pour the oil.
Add the onion and cook at a very gentle heat so that it is light straw-colored after 15 minutes.
Add the garlic cloves and cook for a further 3 minutes.
Remove from heat, allow to cool a little and strain through a sieve into the chilled linseed oil, and put in the fridge to cool. When it has set it is ready to use.
Store in the fridge
Best used within a month.
How to Use Oleolux
Melt into cooked veg, potatoes, and buckwheat.
Use to fry with; though if using oleolux for frying do not heat for more than 2 mins and then cook in water only at a gentle heat.
Stir into risotto, lentils, and soup.
Buckwheat with Oleolux
Melt 50g oleolux in a warm pan. Add 150g raw whole buckwheat groats (grains) and stir gently over a gentle heat for 3 minutes, then add 250ml boiling water and simmer very gently for 2-3 minutes then leave in the pan for 20-30 minutes until buckwheat swells and still retains the grainy texture.
This can be made into a risotto-style dish by using low salt veggie stock instead of water, adding sliced veg. such as onions, celery. carrots, mushrooms, at the very start or for softer veg such as spinach 3-10 mins from the end of cooking and sprinkle with chopped herbs, black pepper, cayenne, yeast flakes, etc.